As in many countries, including Canada, there is currently a push in the UK for a ban on "junk food" advertising to children. Naturally, there's push-back but surprisingly not (just) from the food industry but from registered dietitians. I have to admit, I was pretty taken aback when I saw a number of Bristish dietitians arguing against this proposed ban on twitter last week. I know that we don't always agree, but I thought that this would be one measure that all dietitians would support.
The arguments I saw against the ban were as follows:
This won't make much of a difference
The term "junk food" is unscientific
Only people who work in advertising should be allowed to have an opinion on advertising
Parents should just "say no" to their children when they beg for products they've seen advertised
Parents should do a better job parenting and control the tv their children are watching
There are bigger issues than this so why are we wasting our time on support for an advertising ban
This campaign is just about making Jamie Oliver look good
Let's address these shall we?
There is no one measure we can implement that will make a substantial change in childhood obesity and healthy eating. However, a ban such as this is just one of many measures that, together, will improve the eating habits of children. See last week's post for a few other ideas. There is evidence to support restricting marketing of food (and other products) to children. If marketing to children wasn't effective companies wouldn't continue to do it.
I agree that marketing to children should not apply to "junk food". I think that a complete ban on advertising food should be implemented. This would avoid the whole distraction and difficulty of defining "healthy" and "unhealthy" foods and protect children from the promotion of food which encourages overeating and the development of unhealthy relationships with food.
Do I even need to comment on this one? Does anyone outside of industry truly believe that industry self-regulation is a good idea? Yes, let's put the fox in charge of the hen house. What could possibly go wrong?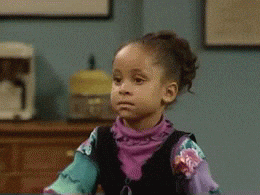 4. Most parents I know would be much happier not to have to constantly have to say no to their children. Banning marketing of food to children would help parents to do their job. It would make it just that little bit easier.
5. Excuse me, your privilege is showing. Must be nice to be a parent who has complete control over every bit of advertising your child is exposed to and who prefers to "just say no" to your child when they're pitching a fit in the grocery store.
6. Sure, there are lots of serious issues facing society and children today. That doesn't mean that we can only address food insecurity at the expense of all other issues. Similar to number 1, we can address many issues simultaneously, and banning advertising to children really doesn't have any downside (unless you're feeling sorry for cereal and pop manufacturers).
7. Y'all know JO drives me as batty as the next person but I'm not inclined to cut off my nose to spite my face. I'm happy to put aside my disdain for Jamie in support of ending marketing to children.
For more information on Marketing to Kids, and to support Bill S-228 in Canada, check out Stop Marketing to Kids.